LEAP and AIM funding now open
Funding/Business and Industry
August 16, 2021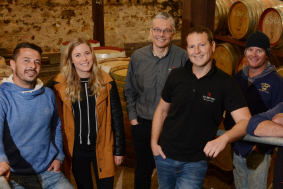 Green Industries SA is helping SA business and industry to LEAP into sustainability and take AIM at resource recovery.
Business Sustainability Program Grants are open from today, until 30 June 2022 or when all funds are allocated (whichever occurs first).
AIM grants provide a subsidy for businesses and not-for-profits to:
ASSESS materials and resource efficiency, waste management, and/or other options to support a more sustainable and circular economy for South Australia
IMPLEMENT recommendations made through a GISA-funded, independent and impartial assessment
Projects should enable participants to MONITOR progress and report outcomes, using it as a base for continuous improvement.
LEAP Grants are available for industry associations and business groups to drive a more resource efficient and circular economy for SA, and for them to:
LEAD by sharing the vision and inspiring businesses to embrace circular economy principles
EDUCATE by providing information, developing guidelines, and raising awareness
ASSIST by providing one-on-one, tailored support for select businesses where this leads to shared learning opportunities
PROMOTE success through case studies, awards, recognition
For further information, and to discuss your project please contact:
Ms Aubrey Thomas, Program Manager, Aubrey.Thomas@sa.gov.au
or
Mr Oliver Lovat, Senior Adviser, Oliver.Lovat@sa.gov.au