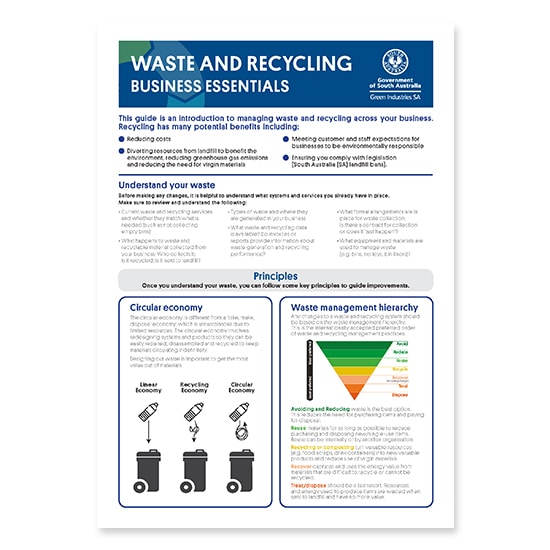 Waste and Recycling: Business Essentials (2021)
Green Industries SA, in partnership with South Australian waste management experts, and based on GISA staff experiences delivering waste management projects and advisory services to SA business and industry, developed a number of resources to help business understand and better manage waste and materials, focusing on the principles of the waste management hierarchy and circular economy.
Waste and Recycling: Business Essentials is an introduction to managing waste across your business.
Topics include:
Understanding your waste
Waste management principles
Landfill bans
Breakdown of service costs, including info on the SA waste levy
Measuring performance
Recycling services and where materials go
Working with building managers and cleaners
Improving services in leased buildings
A Business Waste and Recycling Performance Calculator is available (in MS Excel format) to help you track waste and recycling across your business. When data is entered, the tool estimates total waste generation volumes, reuse and recycling levels, and waste management collection and service costs.
Other resources are available in the Tools & Guides section of this website, including:
Download