Fortnightly Kerbside Collection Pilot Evaluation Report (Fleurieu Regional Waste Authority, 2014)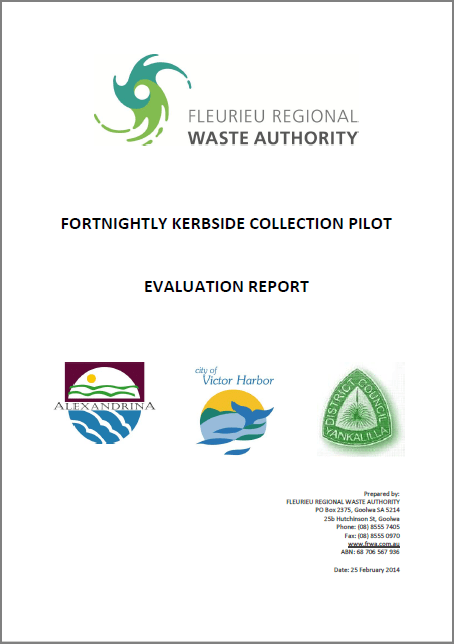 Fortnightly Kerbside Collection Pilot Evaluation Report (Fleurieu Regional Waste Authority, 2014)
In May/June 2012, the Fleurieu Regional Waste Authority (FRWA) undertook a regional kerbside bin audit of selected properties within the areas of Alexandrina Council, Kangaroo Island Council, City of Victor Harbor and District Council of Yankalilla. The audit found that 55% of the general waste stream consisted of potentially recyclable materials (28% recyclables and 27% food/green waste). On the basis of this, FRWA recognised the potential to encourage diversion of waste from landfill by altering the bin collection schedule. To this end, FRWA's constituent councils supported a Pilot/Trial of fortnightly collections within a small selected area (crossing the boundary of Alexandrina Council and City of Victor Harbor) comprising of 630 dwellings.
The project ran for four months, from 2 October 2013 to 22 January 2014, allowing the effects of fortnightly collections to be evaluated both during times when few holiday makers are present, through to the peak summer holiday season. By decreasing the collection of general waste in the Pilot area from weekly to fortnightly and increasing the collection of recycling and green waste from 4-weekly to fortnightly, the Pilot aims to encourage the diversion of waste from landfill. This will mitigate cost increases for waste management into the future and make better use of resources.
Fortnightly collections have already been successfully implemented in another region of SA, interstate and overseas.
The mid-Pilot bin audit demonstrated that, for the permanent resident population, fortnightly collections of general waste, recycling and green waste, combined with provision of kitchen caddies and education, can result in the following desirable effects: a 57% decrease in the weight of food sent to landfill by each household each week, on average; a 54% decrease in the weight of recyclables sent to landfill by each household each week, on average.
Download