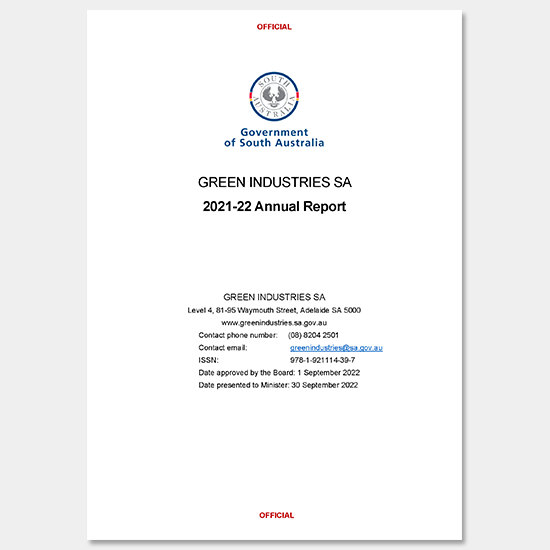 Annual Report 2021–22
In 2021–22, Green Industries SA (GISA) continued to build on its achievements in the transition of South Australia to a circular and green economy.
During 2021–22 GISA established a Green Economy Catalyst Program to bring global leaders to Adelaide, and engage with industry, government and the community, to support the state's transition to a circular and green economy.
GISA also continued to lead and support the implementation of the Single-use and Other Plastic Products (Waste Avoidance) Act 2020 with the release of the discussion paper Turning the Tide – the future of single-use plastic in South Australia in December 2021. As a result of the paper, the second tranche of prohibited plastic products came into effect on 1 March 2022 and includes expanded polystyrene cups, bowls, plates and clamshell containers, and oxo-degradable plastic products.
GISA's Business Sustainability Program (BSP) continues to provide expertise as a basis for informed decision-making and implementation of sustainable change for business and industry. In 2021–22, the BSP supported 31 organisations from 22 sectors with funding support to undertake improvement projects related to materials and resource efficiency waste management, net-zero emissions, and implementation of circular economy principles.
In 2021–22 GISA also partnered with Business SA to establish the Accelerating Net- Zero Emissions for Business program, which assists businesses to take practical approaches to achieve 'net-zero' emissions pathways.
In 2022–23 GISA looks forward to building upon its achievements and continuing to drive the implementation of the circular economy in South Australia.
Download