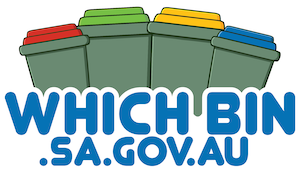 What is Which Bin?
Which Bin is a statewide recycling campaign which aims to increase better bin behaviour across South Australia. Which Bin is an integrated marketing campaign featuring behaviour change messaging for television, newspaper, direct mail, radio, outdoor advertising and online marketing with support through Facebook, YouTube and Instagram.
Green Industries SA provides Which Bin branded resources to support waste educators and local government to tap in to the popularity of the brand and to communicate clearly and effectively with their audiences in a cohesive and personalised way, while still being able to benefit from the major statewide media presence and advertising investment. Green Industries SA maintains the search engine, www.whichbin.sa.gov.au and the Which Bin phone hotline (hosted by KESAB environmental solutions) 1300 137 118 all provide up to the minute information on how, where and what to recycle in South Australia.
If your council would like to be part of the Which Bin brand, please contact us.
Why be part of the statewide Which Bin brand?
The Which Bin brand has had more than two years of research and development based on evidence based behaviour change and communications and marketing science.
Download our behaviour change continuum infographic.