The issue
PVC pipe is purchased by SA Water for the repair of damaged sections of pipe. This pipe is used for the repair of mains water pipes, as well as for wastewater pipes. For many years pipes have been purchased in 6 m lengths, but most repairs require a 4 to 4.5 m length of pipe. To cater for this, the pipes are cut down to size and, because there are no easily accessible recycling services, the offcuts have been sent to landfill.
Historically, SA Water's regional depots dispose of roughly 1.5 tonnes of waste to landfill each week, and it's estimated that roughly 65% of this waste is made up of PVC pipe offcuts.
Challenges
SA Water is reliant on PVC pipe manufacturers to produce shorter lengths of pipe as a standard offering, and for this to become a viable option there needs to be a cost benefit for the manufacturer.
To be recycled, offcuts need to be transported and stored, which creates additional costs for labour.
The solution
To reduce the amount of PVC pipe being sent to landfill SA Water has collaborated with a pipe manufacturer to trial 4.5 m pipe lengths as a standard offering and is also trialling a statewide recycling solution.
Shorter pipe lengths
An opportunity to trial the manufacture of 4.5 m lengths of pipe was identified in mid-2021.
SA Water collaborated with the manufacturer to agree on costings for the shorter lengths and in mid-2022, the first purchase order was placed.
In addition to reducing SA Water's waste to landfill, the transition has also helped to lower transport emissions, as the shorter lengths of pipe can be transported via smaller vehicles, such as a utility vehicle, in comparison to the large heavy vehicles previously required to transport the 6 m lengths.
Further to this, the need for rubber O-rings, typically used with the 6 m lengths of pipe in new pipe laying projects, has been eliminated.
The trial is set to end in mid-2023, with further opportunities being considered for pipes of smaller diameters.
Statewide recycling solution
A trial for recycling PVC pipe offcuts began in early 2022.
A number of SA Water depots, across both metro and regional areas, have been set up with cages to collect and store PVC pipe offcuts for recycling, including sun damaged pipes that can no longer be used.
The cages are weighed at the SA Water depot to establish how much pipe will be transported back to the supplier for recycling.
To be accepted for recycling, pipe offcuts must meet a range of requirements, for example they must be free of components and mostly clean.
Once the offcuts arrive at the recycling facility, they are granulated, and the granular material is combined with virgin material to create new pipe.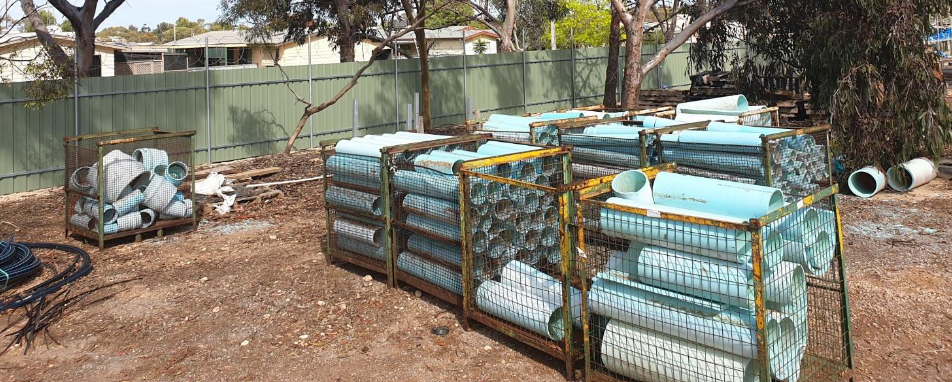 What's next?
SA Water's Environment Corporate Strategy includes an environmental goal to maximise use of materials with recycled content, and an investigation around the procurement and use of recycled PVC and PE pipe, with a focus on performance expectations, is underway.
Following the success of the shorter pipe length trial, similar projects for pipes of smaller diameters are also under consideration.